Spoilers de Game of Thrones next.
As many expected, after taking King's Landing by storm in the episode "The Bells," Daenerys Targaryen finally died during the last episode of Game of Thrones.
The Mother of Dragons was killed by Jon Snow – her crush and nephew – in a desperate attempt by him to prevent her from continuing her war in the rest of Westeros. Something that finally ended up setting the conclusion of the series in motion.
In this scenario, the closing of the Khaleesi story is already one of the most talked about points about the end of GoT, and obviously the words of the actress herself after the Breaker of Chains could not be left out.
In an interview with Entertainment Weekly Emilia Clarke, who throughout the series was responsible for playing Dany, said that like several fans she was amazed by the end of Daenerys's story.
What what what? What? ", Clarke recalled about her reaction to Dany's death. "Because it doesn't come out of fucking anywhere. I was dumbfounded. I absolutely never saw it coming. I cried. And I went for a walk. I left the house, grabbed my keys and my phone, and walked back with blisters on my feet. I didn't come back for five hours. I was like, 'How am I going to do this?' "
Clarke added that the twist in Dany's story prior to her death impacted her so deeply that even she had to call her family to reassure her, even though it was something he was forbidden to do.
In that sense, the actress recalls that like many fans she felt that this turn in her character's story was gratuitous. Nonetheless, the evidence of Dany's fate was there and Clarke notes that she finally found it. remembering the directions he received during his work on the series.
More about Game of Thrones
"There were a number of times I said, 'Why am I getting that note?'" Clarke recalled regarding comments from the show's managers about certain scenes. "So yeah, this has reminded me of all the notes I've had."
With that in mind, and after what he remembers as a long internal conciliation process, Clarke said she supports Dany's conclusion on the series. All, of course, taking into account the effects that the rejection of the Starks in Winterfell and especially the execution of Missandei had on her.
"You are about to ask me if I, like Emilia, did not agree with her at any time", Clarke pointed out. "It was a damn struggle to read all the scripts. What they taught me in drama school (…) is that your character is right. Your character makes a choice and you must agree. An actor should never be afraid of looking ugly. We have uglier sides of ourselves. And after 10 years of working on this series, it stands to reason where else can he go? "
"I tried to think what the end would be", added the actress. "It's not like I'm suddenly going to say, 'Okay, I'm going to put a kettle and put cookies in the oven, we'll sit down and have fun for a while and play with the kids.' That never happened. It was never going to happen. She is a Targaryen. "
"But having said all the things I just said …", Clarke concluded. "I support Daenerys. I'm by her side! I can't not do it."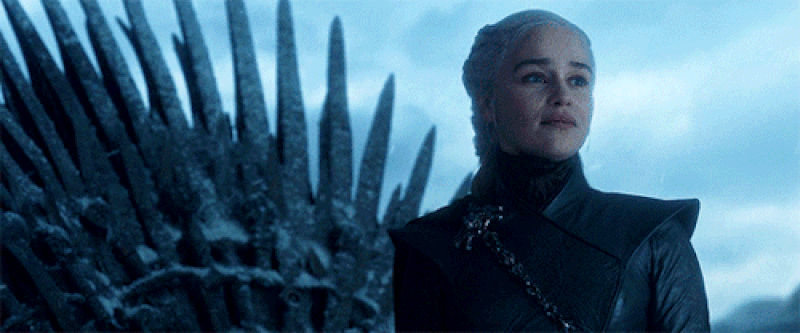 Anyway, despite understanding the end of his character, in conversation with The New YorkerClarke commented on what other scenes she would have liked to have had in the final season before Jon murdered Khaleesi and Drogon flew off with her corpse.
"I would have loved a few more scenes with Missandei", Clarke said. "I would have loved to have some scenes with Cersei."
"Yeah. I would have loved a few more scenes between Gray Worm and Missandei. I would have loved to see a little more between Cersei… I feel like.. The genocide was there. That was always going to happen ", added the actress. "And I think there's more dissection and those beautifully written scenes that guys have between the characters, that we're more than happy to sit there and watch ten minutes of two people talking, because it's beautiful. I just wanted to see a little more of it. But I'm in no position to criticize geniuses who have written wonderful things for eight seasons. "
We want to say thanks to the author of this write-up for this outstanding content

Emilia Clarke on Daenerys ending: "I absolutely never saw it coming" – La Tercera