Each year, the Pantone brand promulgates a flagship shade supposed to set the "la" in the decoration and design sector. For 2022, the American company with the famous color chart is wearing Very Peri purple to the sky. A blue sprinkled with a touch of red-violet which expresses joy and dynamism.
Furniture, paint, linens, lighting, design accessories confirm this nuance that settles in. One of the latest creations by designer and artist Clementine Chambon for the Manufacture Pinton, specializing in Aubusson tapestries, also incorporates a shade of ultramarine purple: "For my Floraliste carpet collection, I wanted to mix realism and artificiality, to give cosmicism to the historic floral theme of the house. This Pantone shade is one of the colors of the rainbow. It comes from childhood and brings a touch of cheerfulness and carefreeness. Faced with the anxiety-provoking period that we are living, I think that people again need colors in their interiors. "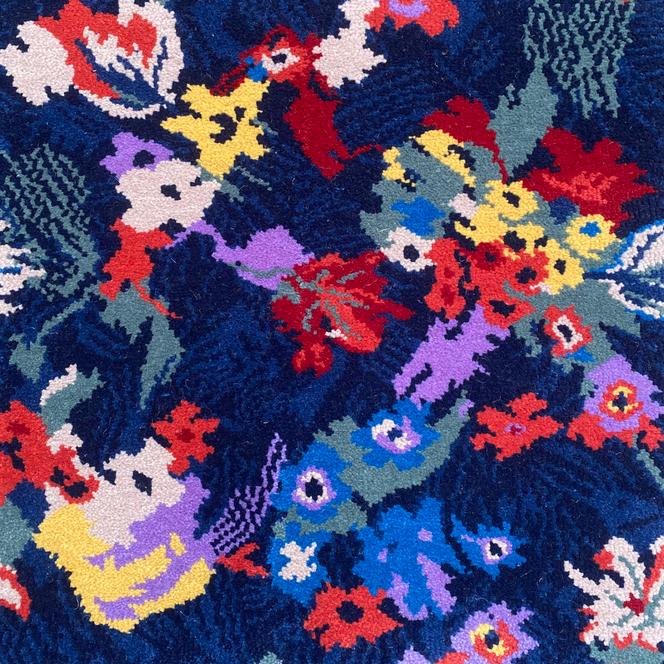 New colors – admittedly less marked than in fashion – manage to find a place each season in the design sector, whose longer production times do not encourage daring in the color charts on offer. "In design, we will rather work on halftones to give depth to already existing, reassuring colors", explains Ruben Jochimek, Managing Director of Matière Grise, publisher of metal furniture. One way to remain cautious while infusing nuances in the ranges of furniture.
Boost creativity
Green mixed with gray seems to be finding its place in decoration, especially in the kitchen, as at Ikea. Author of the book Sarah Colors (Editions du Chêne, 2019), the decorator Sarah Poniatowski Lavoine confirms: "This verdigris shade, slightly bluish and turned down, is a chameleon shade that reveals the complexity of her face according to the shades with which it is associated. Indoors, it is a tender and calming color, like watercolor. "
Green is supposed to boost creativity but above all it reminds one of nature. "This renewed green is the exterior that penetrates our interiors. With the desire for large spaces and a return to nature caused by confinements, this development is in line with what we are experiencing ", expresses designer Elise Fouin. It is this color that also permeates his latest creation, a fine weaving called "Needles" made in the Moutet weavers factory in Orthez (Pyrénées-Atlantiques). This motif was sketched during a residency of the designer at the Jan Michalski Foundation in the Swiss Jura. "At the foot of Mont Tendre, I was inspired by the fir and spruce forests. My weaving is not a scientific drawing but a landscape ", explains Elise Fouin, who is thus continuing her project of a Tour de France of ancestral know-how.
You have 19.32% of this article to read. The rest is for subscribers only.
We would like to give thanks to the writer of this article for this awesome web content

2022 will be purple (and green)