Meet at the weekend and have a delicious vegan breakfast in Cologne – I love it! I lived in the cathedral city for twelve years, and I am still here often now. In this article I'll tell you where you can get a really good breakfast in Ehrenfeld and in the Belgian Quarter.
Vegan breakfast in Cologne – huge selection
My favorite city in Germany is definitely Kölle. For me it is simply the nicest city with friendly locals. Do you already know mine Cologne tips for viewpoints, Second Shops and restaurants?
In the megacity you will find a large selection of cafés and restaurants that are either purely vegan or vegan-friendly.
In December 2018 I first became a vegetarian and then a vegan in December 2019. Now I'm even doing a distance learning course to become a vegan nutritionist. And at home and when traveling, I always look for delicious food.
Trendy Ehrenfeld and Belgian Quarter
In Cologne, I lived in these two hip districts, among others. There is street art, original shops as well as restaurants and cafes with international food.
Regardless of whether you fancy a smoothie bowl, bagel or cake in the morning – you will find it.
Suitable restaurants for vegans: inside are located on Venloer Straße, which connects the two parts of the city. The cafes can get really full on Saturday or Sunday. But then we just move on to the next one.
1) Breakfast at Vevi: Vegan café in the Belgian Quarter
I'll start with a purely vegan café: The Vevi (Brussels Str. 29) is lovingly decorated with vintage furniture. The last time I was here in August 2021, I was greeted by the cute little café dog Ginger. And for the four-legged visitors: a water bowl was ready inside.
You can sit inside or outside. That morning the sun was shining and it was quite warm. So I took a seat at one of the six outdoor tables, on a comfortable bench.
The purely plant-based menu includes bowls, sandwiches and wraps. And lots of sweet things like waffles, nut wedges or raw cakes.
I ordered the Heidi Smoothie Bowl with blueberries, banana, almond butter, almond milk and dates as well as a topping made from banana, blueberries, cashews and chia seeds. There was also an iced latte with oat milk, which is my standard drink in summer.
I find the Vevi cozy and relaxed. Everything I tried on my three visits was delicious.
2) Coffee and cake, Belgian Quarter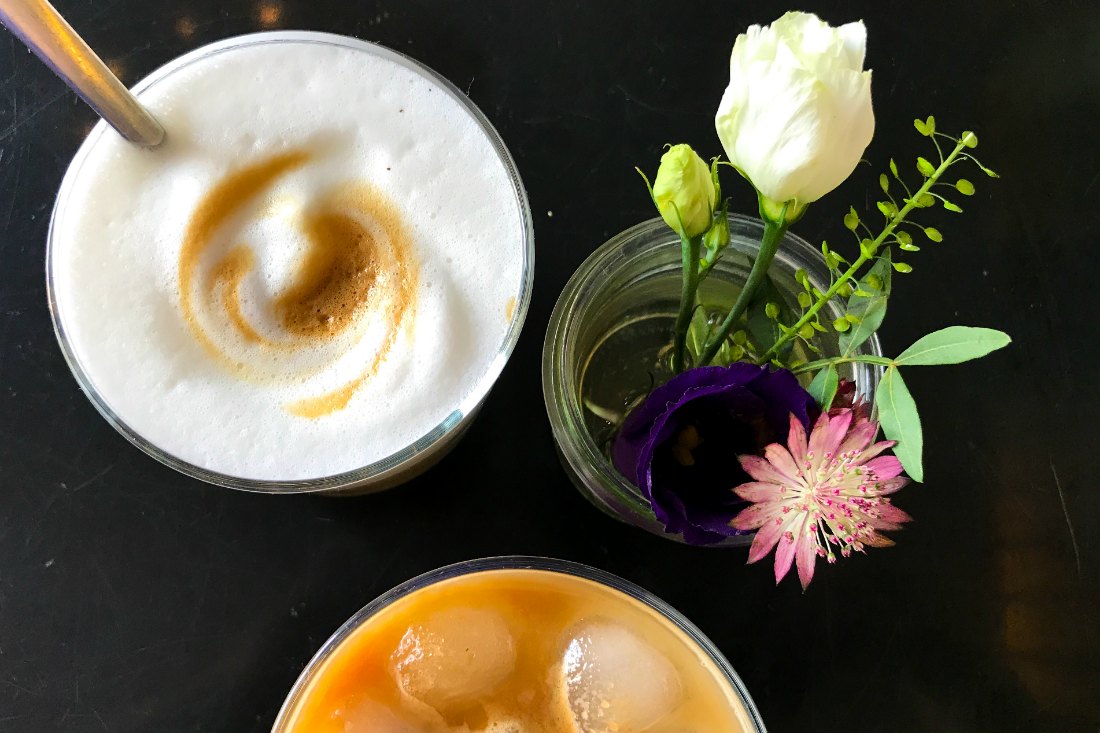 My favorite place in Cologne is this little café (Venloer Str. 19) over two floors.
When it rains you can sit inside, which is very cozy. When the sun is out, the tables outside on the street are ideal.
The vegan breakfast menu includes avocado bread, pancakes or a muesli bowl. You can also order the avocado or veggie bagel vegan. I love the juicy carrot cake with nuts and am always happy when it is served.
By the way, dogs are welcome, we've been here with Buddy before.
3) Vegan-friendly Café Rotkehlchen, Ehrenfeld
This cute café (Venloer Str. 400) has not only vegetarian but also many vegan options. There are other branches of the Rotkehlchen in Südstadt, Bayenthal and Kalk.
I always go to Ehrenfeld. Because I really like this place with its brick walls, wooden tables and mosaic floor. There are also outside spaces on the street.
On the menu you will find vegan breakfast platters, "salmon rolls", panini or fruit salad. If you're in the mood for sweets in the morning, then make sure to grab the cakes and pies – they are soooo good.
4) CafeCafe Ehrenfeld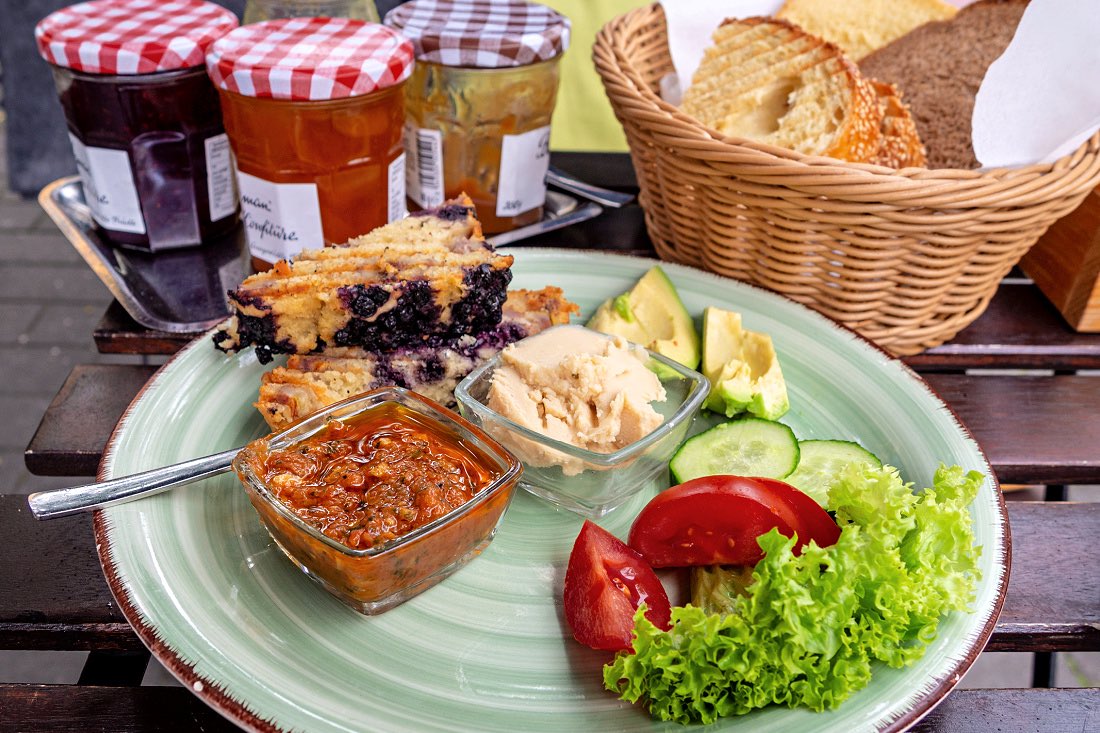 In Ehrenfeld you can find the pretty "cafecafe – urban eats & coffee" (Venloer Str. 206) since 2012. There are six tables outside, you are well protected under the huge parasol.
I ordered the vegan breakfast. As you can see, there were tomato pesto, hummus and avocado. The banana bread was fluffy and not too sweet. Beware of the spreads: caramel spread and lemon curd were not vegan.
Other vegan "breakfast specials" include an acai bowl or a coconut banana cashew bowl.
The café is also dog friendly.
5) Cinnamon rolls at the flour workshop, Ehrenfeld
Another nice breakfast café is right next door (Venloer Str. 202). Where I used to buy cinnamon rolls at "Zeit für Brot", I now took cinnamon rolls at the "Flour Workshop".
Due to Corona, you can currently only order inside, but not sit down. However, there are enough tables outside by the long window front.
When I was there, I saw two vegan versions of the cinnamon roll: with apple and with chocolate. I ordered the apple cinnamon wrap – delicious!
This article will be continuously expanded when I try a vegan breakfast or brunch in the cathedral city again.
Which are your favorite cafés for vegan breakfast in Cologne?
Continue reading
Cologne tips from a local
Second Hand Shops Cologne: Buy cool vintage clothes
Vegan in Mönchengladbach: restaurants with pick-up and delivery service
Travel vegetarian and vegan: beautiful holiday destinations and hotels
Newsletter & Social Media
Would you like to be informed about new blog posts? Then subscribe to Travel on Toast via Newsletter. Once a month you will receive inspiration, insider tips and information on competitions. Also like to follow me about Instagram, Facebook, Pinterest, Tik Tok or YouTube. You can find out more about me here.
Have a vegan breakfast in Cologne – memorize tips on Pinterest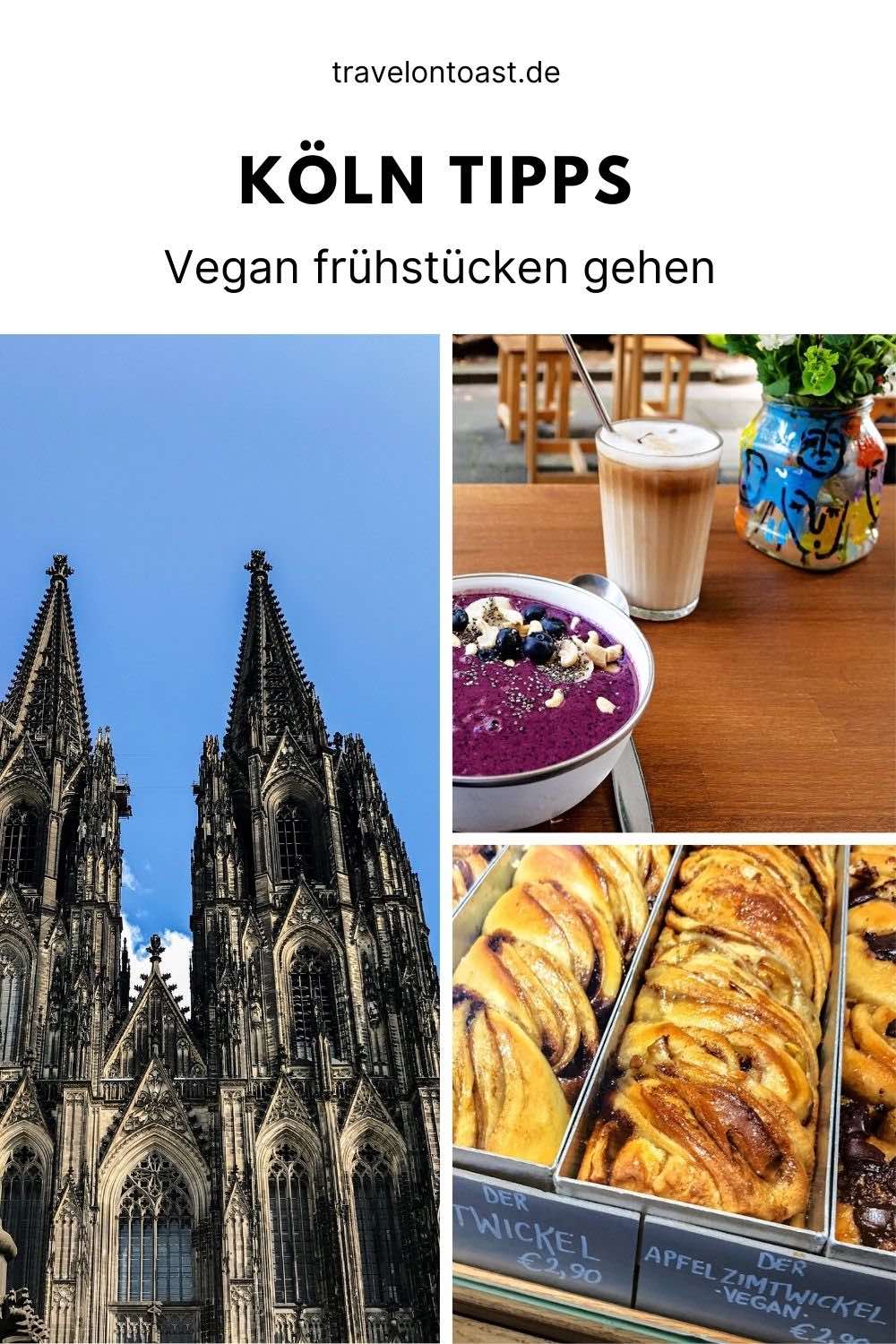 The following two tabs change content below.
This travel blog & food blog is about beach holidays, city trips, road trips, holidays with your dog and vegan food. Feel free to follow me on Facebook, Instagram, Pinterest or YouTube.
We want to give thanks to the writer of this short article for this outstanding material

Have a vegan breakfast in Cologne: 5 café tips