A fantastic circus world with elephants, tigers or clowns as well as a giant pyramid await you at the Krewelshof Eifel, built from over 100,000 pumpkins. It is the largest pumpkin exhibition in North Rhine-Westphalia. You can experience the Pumpkin Festival 2021 with this year's circus motto until November 6th. We went on a trip with dog Buddy to the pumpkin farm in Mechernich. I'll show you my most beautiful pictures and give you practical tips.
Pumpkin exhibition in NRW – great destination!
Not far from Aachen, Cologne and Bonn is the Krewelshof Eifel in Mechernich.
The popular destination can be visited 365 days a year. The opening times of the largest pumpkin exhibition in North Rhine-Westphalia are daily from 11 a.m. to 5 p.m., the site closes at 6.30 p.m.
Admission is 6 euros per person, breakfast guests only pay 3 euros. The parent-child card costs 17 euros for two adults and two to three children. Groups of 20 people or more pay EUR 4.50 per person.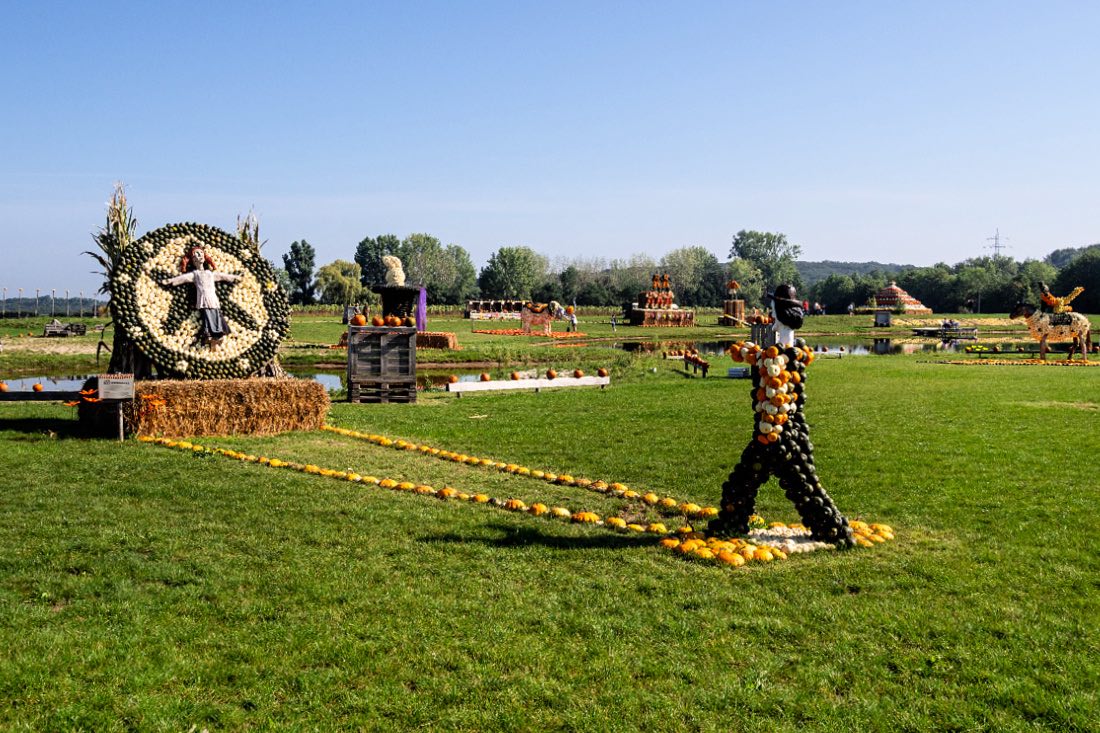 We were there on Sunday, September 5th, 2021. It was the first day of the pumpkin show. Probably because of this, the free parking lot was almost completely full. But on the large courtyard area, the visitors were well distributed: inside.
We first had a leisurely breakfast outside in the courtyard café in bright sunshine. Then we went to the pumpkin festival. Then I went shopping in the farm shop.
YouTube video from the pumpkin farm
I also shot a short YouTube video at the pumpkin farm. It gives you a first glimpse into the Pumpkin Festival 2021:
Pumpkin Festival 2021 at the Krewelshof Eifel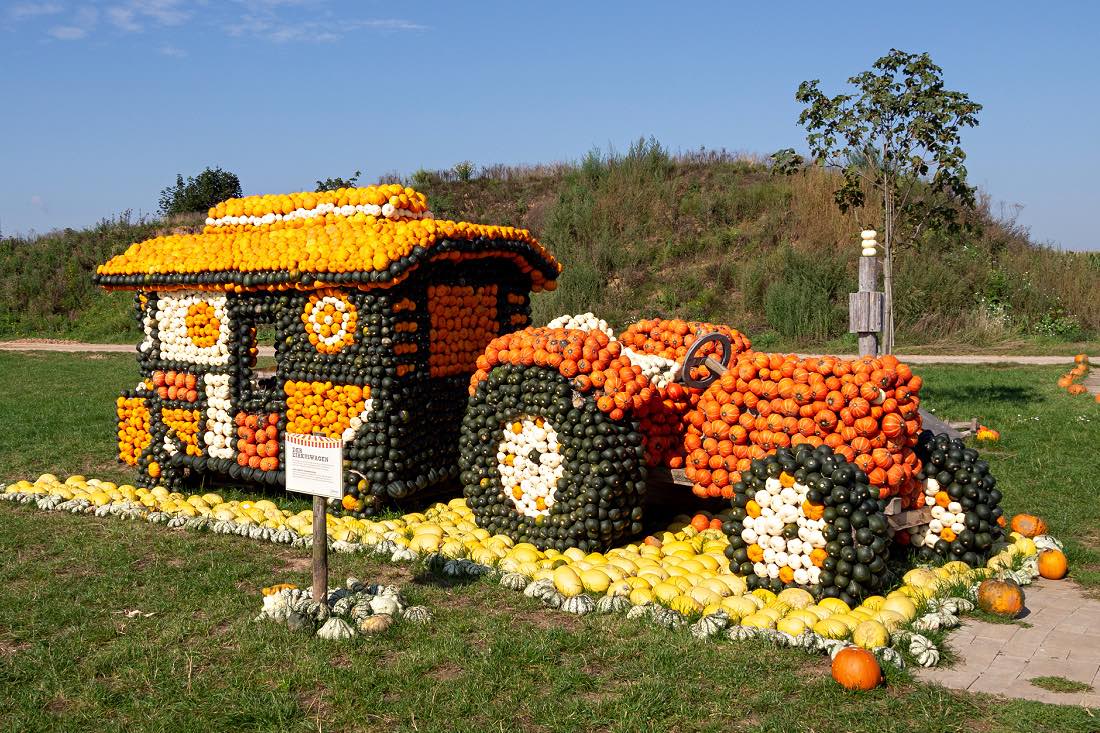 You can see pumpkins in all sizes, colors and shapes at NRW's largest pumpkin show. This takes place every year at the Krewelshof Eifel.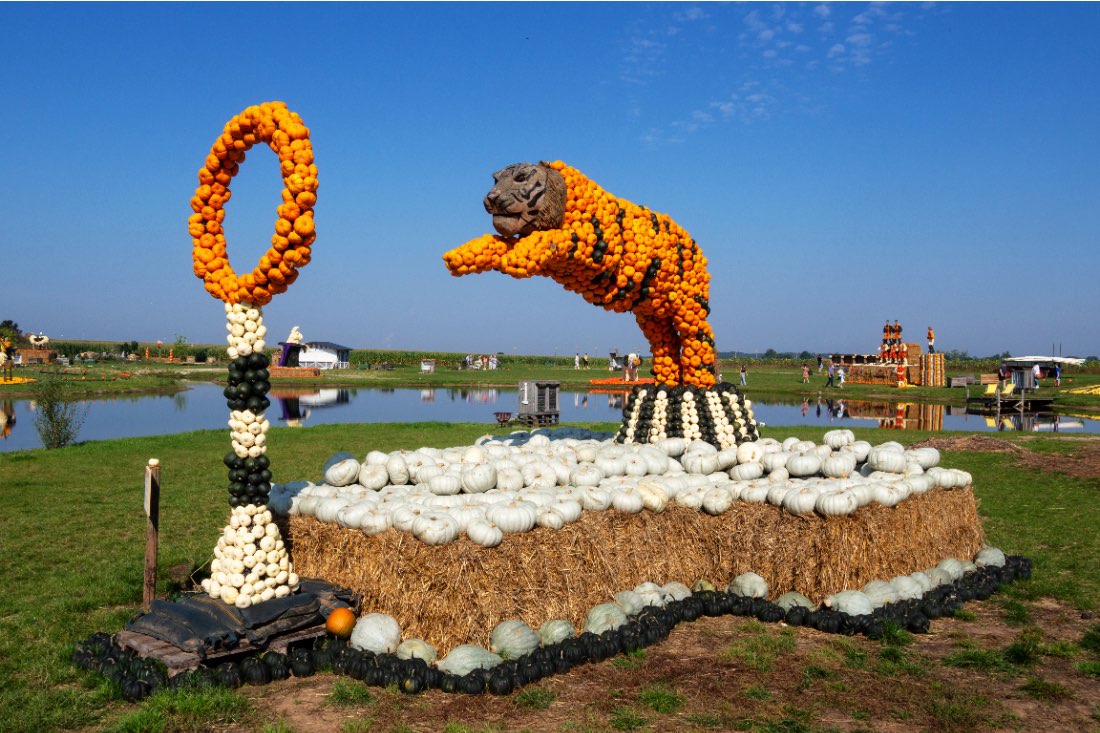 Over 100,000 pumpkins were arranged around the small Krewelshofer See this year. 20 people worked on it for two weeks.
You can walk on the circular path, the wood path is lined with pumpkins. We were here for around an hour, also because I kept finding beautiful photo opportunities. I was amazed at how lovingly and detailed everything was designed.
I really liked this year's theme of circus nostalgia, with figures up to five meters high. "Pumpkin circus – open the arena," it said.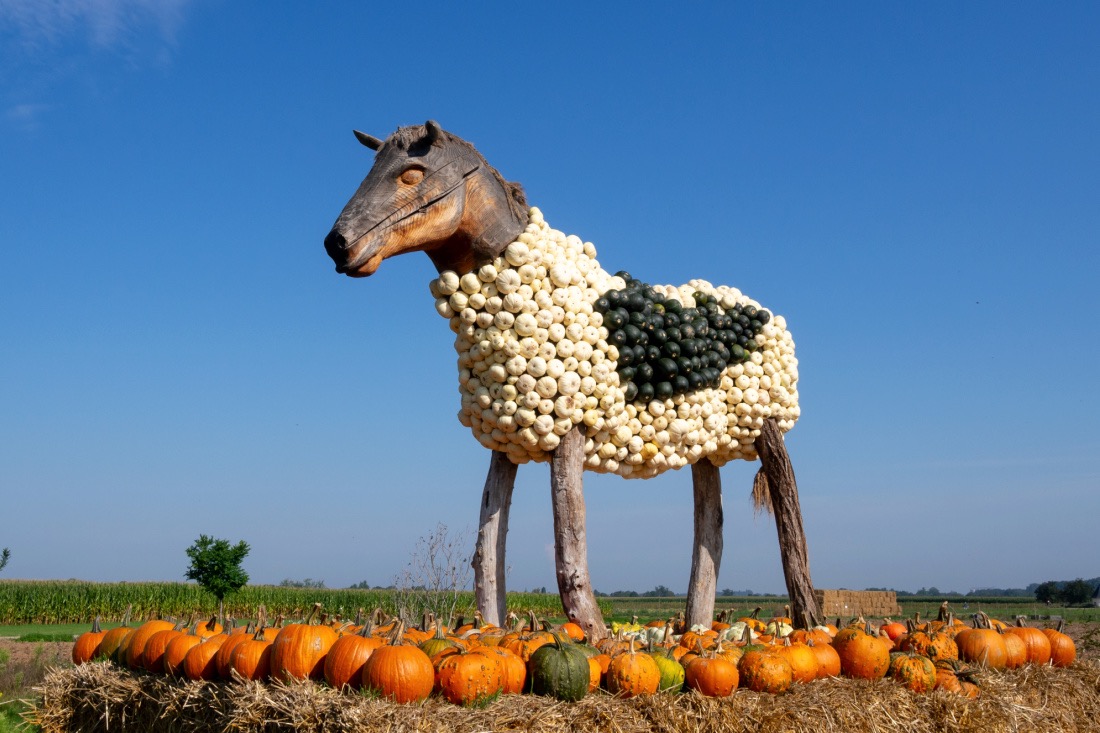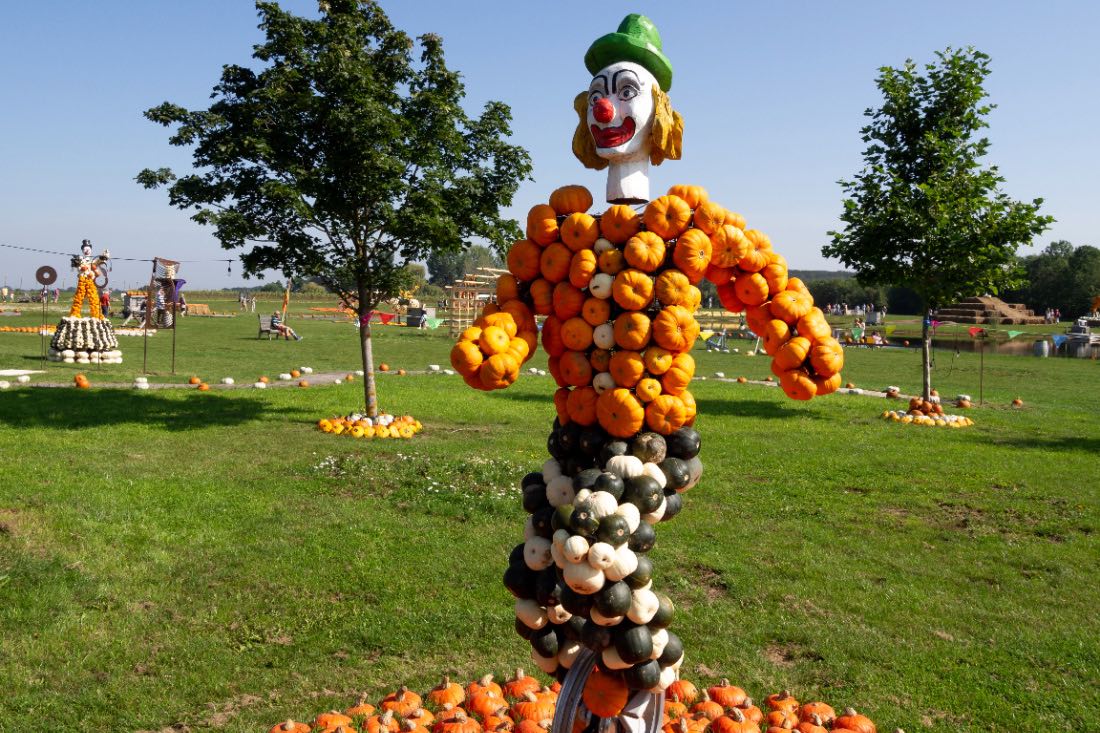 The pumpkin figures showed, for example, an artist pyramid, a circus horse or clowns.
A popular Instagram spot in autumn is the giant pumpkin pyramid. The "Pumpkin Pyramid" with the pumpkins in orange, white or green is really great!
Corn maze, pumpkin carving and photo spots
Other offers are about that Maize Labyrinth, a bouncy hill or the straw slide.
the Pumpkin carving workshop is open from 3 p.m. on weekends in September and October.
On October 30th and 31st, 2021 from 2 p.m. to 5 p.m. there will be NRW's largest pumpkin carving street. Here you can – if you wish, with guidance – carve your own pumpkin, e.g. B. to the lantern or the creepy Halloween face. Registration is not required.
I also found the oversized sofa and the hay cart at the entrance very nice, where you each other taking photos can.
Nice trip with dog in autumn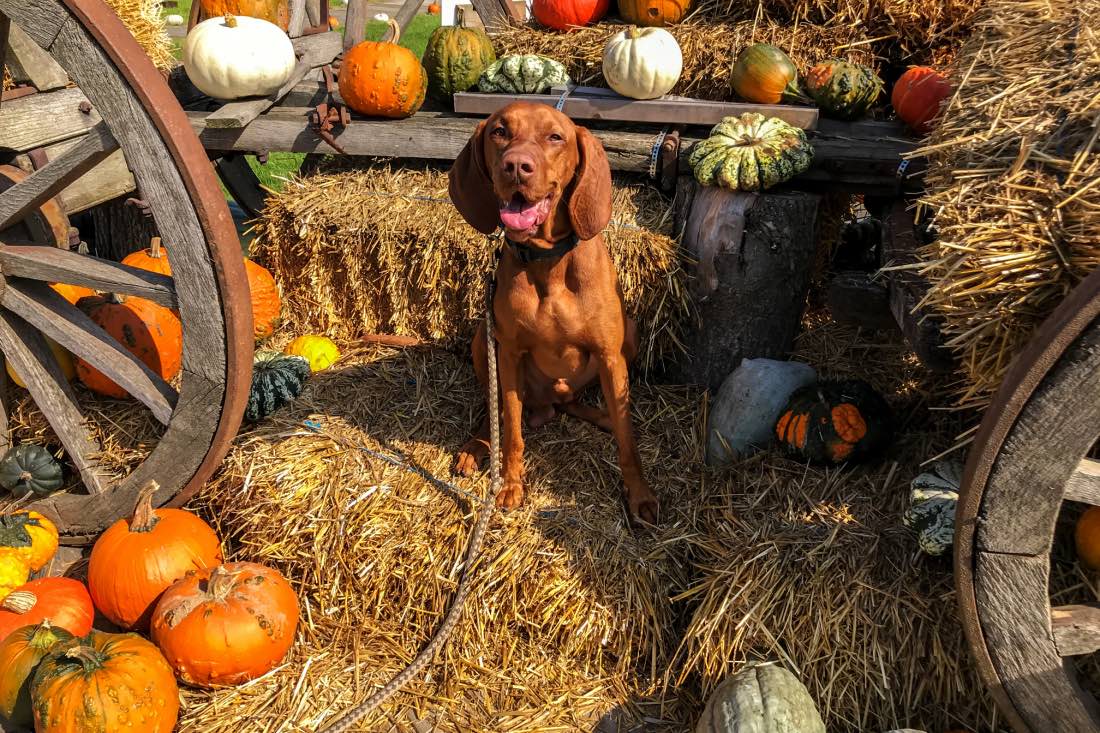 Dogs are welcome on the farm. However, they should be on a leash and tolerable. We saw a few other fur noses, Buddy was allowed to sniff a few of them.
It was 23 degrees, almost too hot for our Magyar Vizsla (Hungarian hunting dog). We had taken water with us, it quenched our greatest thirst.
There was enough space both in the café and at the exhibition with the pumpkins. Buddy can get excited when there are many people around him. But so he stayed relaxed.
Cozy breakfast in the courtyard café
In the Hofcafé there will be a breakfast buffet offered from 9 a.m. to 11.30 a.m.
The prices for the breakfast buffet vary: on weekends and on public holidays, breakfast costs 19.50 euros. During the week you pay 14.50 euros.
At 9.30 a.m. it was very full at the buffet, and it wasn't anything for me as a vegan. Instead of the buffet, Carsten only took a coffee and a croissant, so he sat down at a table outside. Meanwhile I looked around for photo spots.
To the Having lunch Incidentally, pumpkin cream soup or lasagna (vegetarian) are offered. And in the afternoon there is coffee and cake. How about a pumpkin muffin or cake?
Pumpkins everywhere on the adventure farm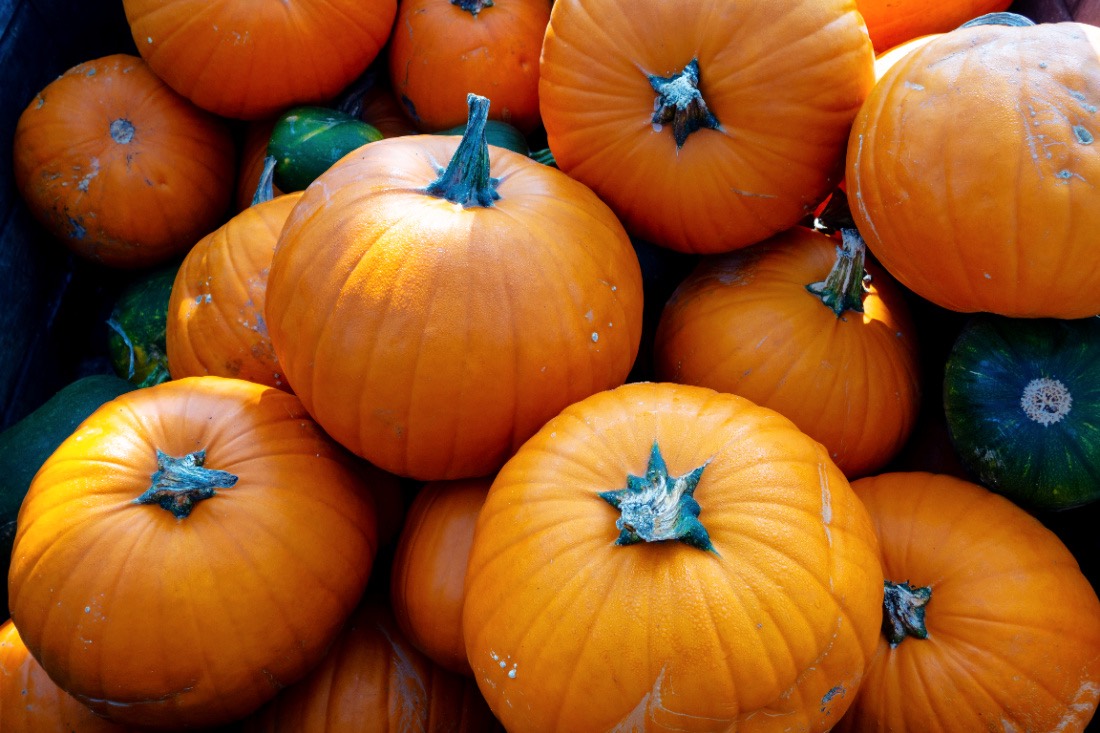 In addition to the pumpkin show, we also saw numerous pumpkins in the courtyard. You can buy many different types, all of which are edible. You can use it to cook or bake. There were recipe ideas on the boxes, e.g. B. for pumpkin salad, schnitzel or dessert.
Or would you like to carve pumpkins at home for Halloween? You can also buy the large carved pumpkins. I like pumpkins as autumn decorations and thought the little white "Baby Boo" or the "Black Cat" were pretty.
Shopping in the farm shop
Seasonal and regional products such as asparagus, strawberries, cherries, plums, apples, pears, pumpkins or Christmas trees are available here – depending on the season. The Hofmarkt is huge.
You will receive pumpkin spritzer, pumpkin secco and pumpkin soup to go with the exhibition. Or how about the cookbook "Pumpkin Enjoyment"?
Rules in times of Corona
As of October 8, 2021 (see Facebook site of the Krewelshof) 3G was only necessary for indoor catering. Visitors had to be vaccinated, recovered or tested. This was not necessary for the pumpkin show and the outdoor areas of the café.
It was compulsory to wear masks on the entire site, except at the tables. It was asked to keep your distance.
All information about the Pumpkin Show 2021
Krewelshof Eifel
Krewelshof 1
53894 Mechernich
Pumpkin show until November 6, 2021
Opening times: daily from 11 a.m. to 5 p.m., the site closes at 6.30 p.m.
Entrance fees: 6 euros per person, breakfast guests only 3 euros. Parent-child card: 17 euros (two adults and two to three children). Groups of 20 people or more: EUR 4.50 per person.
Would you also like to go to the largest pumpkin exhibition in North Rhine-Westphalia?
Read more about excursion destinations in NRW
22 Cologne tips from a local
Excursion destinations on the Lower Rhine: Favorite places of 8 travel bloggers
Sequoia trees in North Rhine-Westphalia: Sequoiafarm Kaldenkirchen
Webersiedlung Mönchengladbach at Christmas
Tulip fields in Grevenbroich – spring magic on the Lower Rhine
Münsterland tips: Discover sights by bike
Newsletter & Social Media
Would you like to be informed about new blog posts? Then subscribe to Travel on Toast via Newsletter. Once a month you will receive inspiration, insider tips and information on competitions. Also like to follow me about Instagram, Facebook, Pinterest, Tik Tok or YouTube. You can find out more about me here.
Note the pumpkin exhibition NRW on Pinterest
The following two tabs change content below.
This travel blog & food blog is about beach holidays, city trips, road trips, holidays with your dog and vegan food. Feel free to follow me on Facebook, Instagram, Pinterest or YouTube.
We want to give thanks to the writer of this post for this remarkable web content

Largest pumpkin exhibition in North Rhine-Westphalia – Krewelshof Eifel