A lightning ascent. At 30, Marine Serre is one of the most prominent figures in current French fashion. His eponymous label, launched in 2017, has continued to climb the steps of desirability, its famous "moon" logo being worn around the world by singers Beyoncé and Adele, as well as by the stars of the K- group. Korean pop Blackpink or reality TV starlet Nabilla.
Its hybrid fashion is shaped thanks to recovered, cut and reworked fabrics, to imagine "upcycled" silhouettes, halfway between sportswear, utility, big night and do-it-yourself. Her denims are dyed, her colorful dresses are made of assembled silk scarves, her shirts come from vintage tablecloths or tea towels with red borders so recognizable … In the premises of her brand, which occupy several floors of a building in the north of Paris, a huge room is devoted to sorting vintage T-shirts, woolen blankets or even denim items.
Read also
Reversible, transformed, layered … fashion is recycled
Winner of the LVMH prize for young designers in 2017, Marine Serre, who grew up in Corrèze, is keen to alert people to the state of the world, especially through fashion shows with fists: we remember her spring collection – summer 2020, presented in an oil spill decor. A bias that echoes today's issues.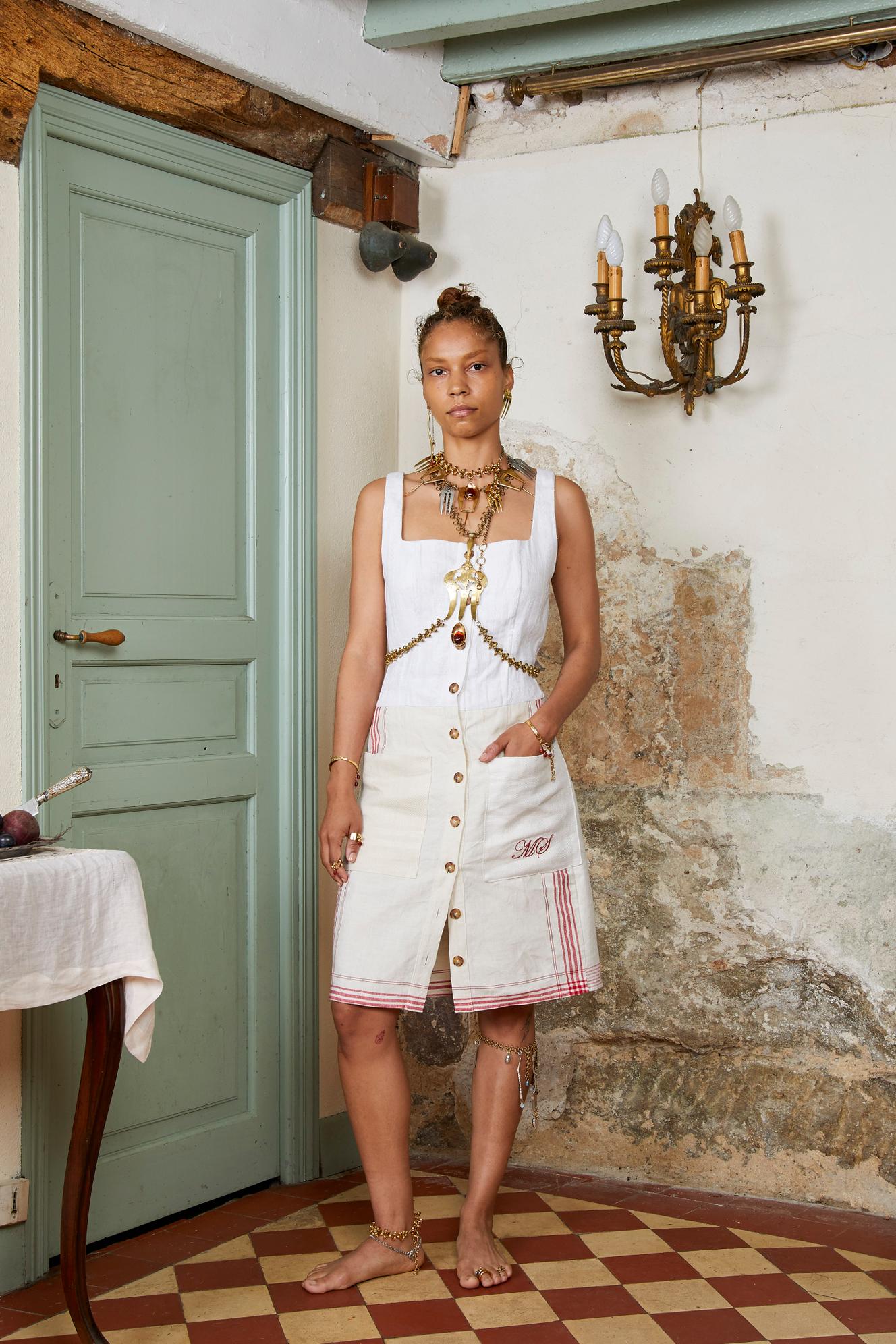 How did you come into fashion?
My mother dressed very well, even though we didn't have a lot of money. She had a great sense of style and color. My grandfather, who was a second-hand dealer, was also very important in my learning. He collected a lot of worthless objects, jugs, key rings, glasses… I think that, for me, it mainly developed in adolescence, when you become aware of your own body. At that age, we are looking for an identity. I lived in the deep countryside, there were no big chains, from Zara, so I scoured thrift stores a lot.
When I was 13, I went to boarding school at La Souterraine, near Limoges. There was a great thrift store where everything was at 1 euro. My wardrobe blew up at that point. It ranged from belts to coats to dresses. I really discovered the garment through vintage pieces.
Recovery, the "upcycled" side, was it already at the heart of your concerns during your fashion studies?
I started by studying applied art, where we did art in general, drawing but also furniture. Back then, making a jacket or a chair was the same process for me. I then specialized in fashion, first during a BTS in Marseille, then at the La Cambre school, in Brussels, where I deepened my technical knowledge. As a student, I was already working with recycled materials, with the end of stocks, I was taking clothes apart… I had this love for vintage anchored in me.
You have 68.23% of this article to read. The rest is for subscribers only.
We want to thank the writer of this article for this awesome web content

Marine Serre: "I am also there to alarm"