I like to eat potato salad for Christmas or New Year's Eve. It tastes best to me according to the recipe from Carsten's mother. As a vegan, I modified it so that it is purely plant-based. Here comes my vegan potato salad, which you can easily prepare.
Vegan potato salad with mayonnaise
A classic meal at Christmas time is potato salad. But what comes in? Opinions are already divided when it comes to mayo or vinegar and oil as a dressing.
Do you know Silesian potato salad? According to Wikipedia, "Szałot" consists of boiled potato squares, carrots, peas, ham, various sausages, pickled fish, boiled eggs and olive oil or mayonnaise.
Carsten's mother was born in Opole (Opole), in south-western Poland. Your family recipe has already been modified from the original, I've veganized it.
Thanks to pickles and apples, the potato salad tastes sweet, sour and fresh. In the vegan version, the mayo is purely plant-based, there are no eggs and you can add vegan meat sausage. I like to eat soy sausages or sausages with pea protein with potato salad.
Delicious food for Christmas or New Years Eve
Incidentally, the hearty recipe is not just for a festive lunch or dinner in winter. The salad also tastes very good as a side dish in summer for grilling.
In the Advent season, however, I am particularly happy about a simple and quick recipe.
Because you can spend a lot of time with Christmas decorations, buying gifts or baking cookies. Then my beloved Christmas films are still waiting for me and we have another look at the Christmas lights in the Mönchengladbach weavers' settlement.
Here is the recipe for you.
Vegan potato salad recipe
ingredients
for 4 people
1 kg of waxy potatoes
3 pickles
1 apple
2 small onions
2 cloves of garlic
3 tbsp vinegar
300 g Mayonnaise
If necessary, 200 g vegan meat sausage
salt
Pfeffer
preparation
Cover and cook jacket potatoes in salted water for around 20 to 30 minutes, cooking time depending on the size of the potatoes. Quench with cold water, peel and cut into pieces.
Chop the cucumber, apple and onion and add. Press in the garlic with the garlic press.
Add vinegar, mayonnaise and, if necessary, vegan meat sausage.
Season to taste with salt and pepper.
Let the potato salad soak in the fridge overnight.
By the way: If you're still looking for a Christmas dessert, then take a look at my baked apple recipe.
Newsletter & Social Media
Would you like to be informed about new blog posts? Then subscribe to Travel on Toast via Newsletter. Once a month you will receive inspiration, insider tips and information on competitions. Also like to follow me about Instagram, Facebook, Pinterest, Tik Tok or YouTube. You can find out more about me here.
Vegan potato salad: Note the recipe on Pinterest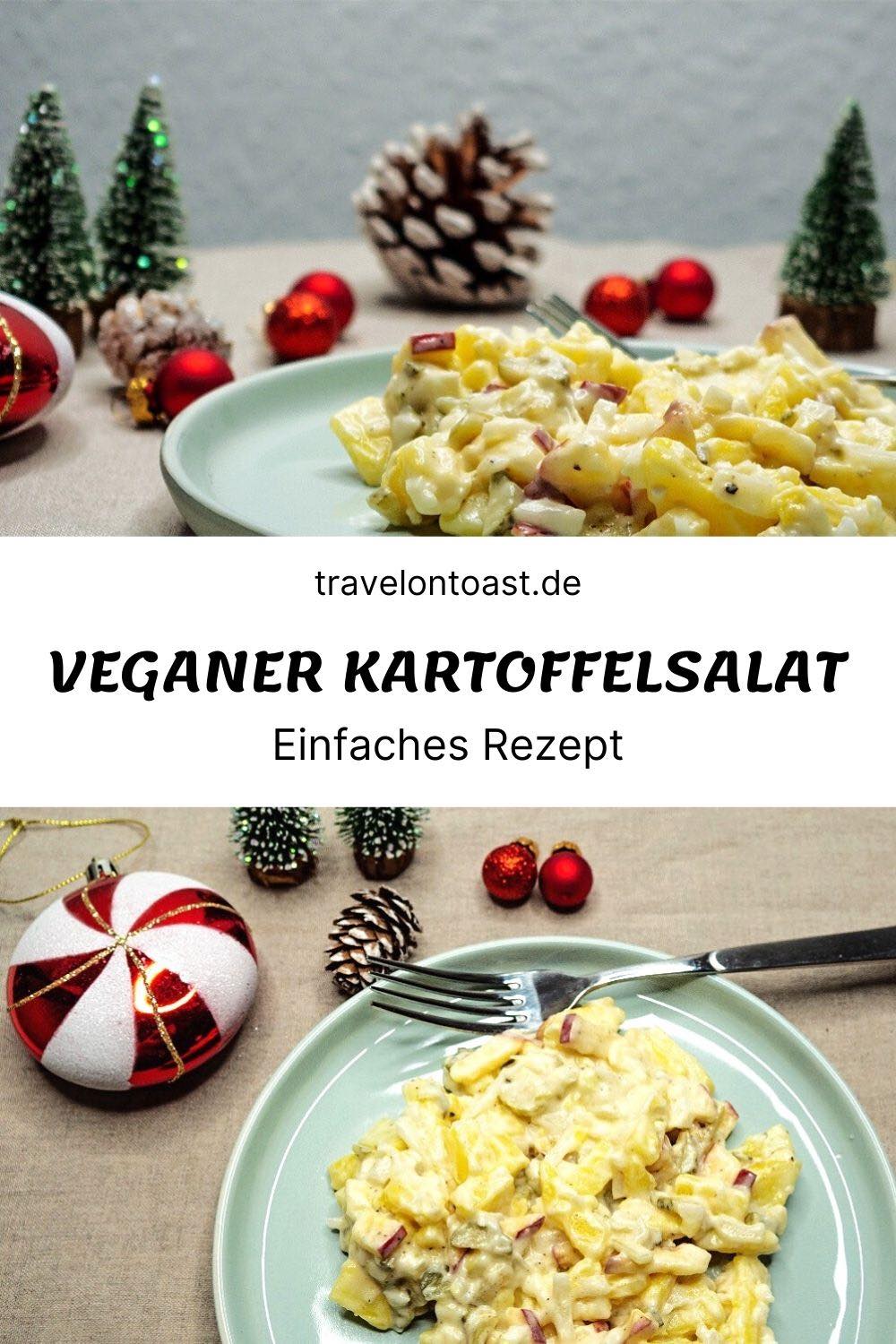 The following two tabs change content below.
This travel blog & food blog is about beach holidays, city trips, road trips, holidays with your dog and vegan food. Feel free to follow me on Facebook, Instagram, Pinterest or YouTube.
We want to thank the author of this article for this awesome content

Vegan Potato Salad: Easy and Quick Recipe