The Westruper Heide in Haltern am See blooms from the end of July to the beginning of September. On August 21st and 25th, 2021 we made two trips there with the dog Buddy – once on Saturday afternoon, once on Wednesdays at sunrise. Here are my tips for trips to the purple splendor.
Free and dog-friendly destination
Since our Magyar Vizsla (Hungarian hunting dog) came to us in June 2018, we have often been going on dog excursions into nature on weekends.
From the around 90 hectares of Westruper Heide – not far from Dortmund and Münster – I had seen beautiful pictures on Instagram and Facebook. I wanted to go there too!
You will get your first impressions with this one YouTube Video:
Westruper Heide in Haltern am See
It is the largest dwarf shrub heather in Westphalia. The best time for the heather to bloom is mid to late August. We saw rolling landscapes covered in pink to purple heather.
200 Heidschnucken and ten goats graze here around half of the year. On our second outing, we spotted many of the sheep grazing in a fenced area.
Which parking lot use?
On Saturday afternoon we drove for the first time from Mönchengladbach by car to Westruper Heide. We controlled the free one using Google Maps Westruper Heide car park at Flaesheimer Damm.
On the way there we noticed that there was a lot going on. The day trippers were out and about by car, motorcycle, bicycle (but you are not allowed to go into the heather with them) or on foot.
No wonder, we had a sunny 23 degrees and it was only partly cloudy.
The aforementioned south-facing car park was jam-packed when we arrived at 2:30 p.m. We had to wait a little before we got a seat. There are several further parking possibilities on the B58.
At sunrise we came back the following Wednesday. Because we found the heather so beautiful that we wanted to experience it early in the morning. At 6.20 a.m. some parking spaces were occupied, but there was still enough free space.
Dogs on a leash are allowed in the nature reserve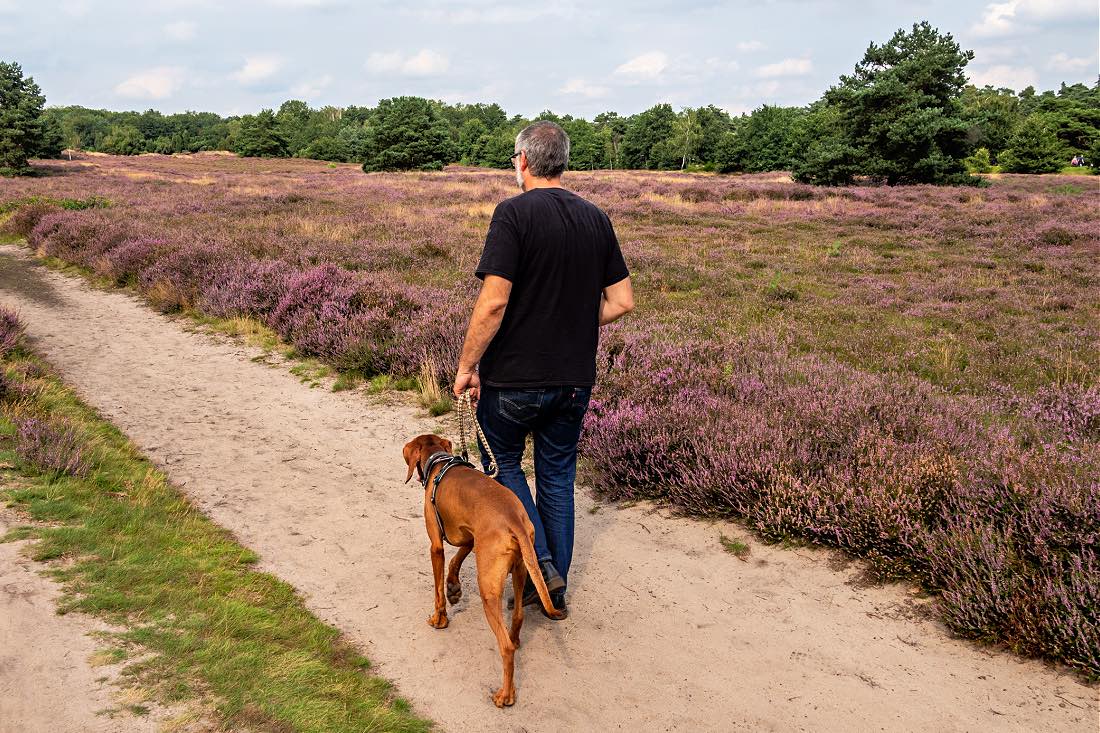 The heath is a dog-friendly destination. Because dogs on a leash are welcome on the sandy paths. However, just like people, they are allowed to do not leave the path – to protect endangered animal and plant species.
We met a lot of other dog owners on our walk: inside with their four-legged friends. Everyone was friendly so that Buddy could sniff some conspecifics.
It is best to take when it is hot water With. Because there was on Saturday afternoon little shade and the sun was beating Only a few trees offered protection.
But it was really cold in the morning, we shivered at eight degrees. In addition to our light summer jackets, there is also a Sweater been great.
Our circular route through the blooming heather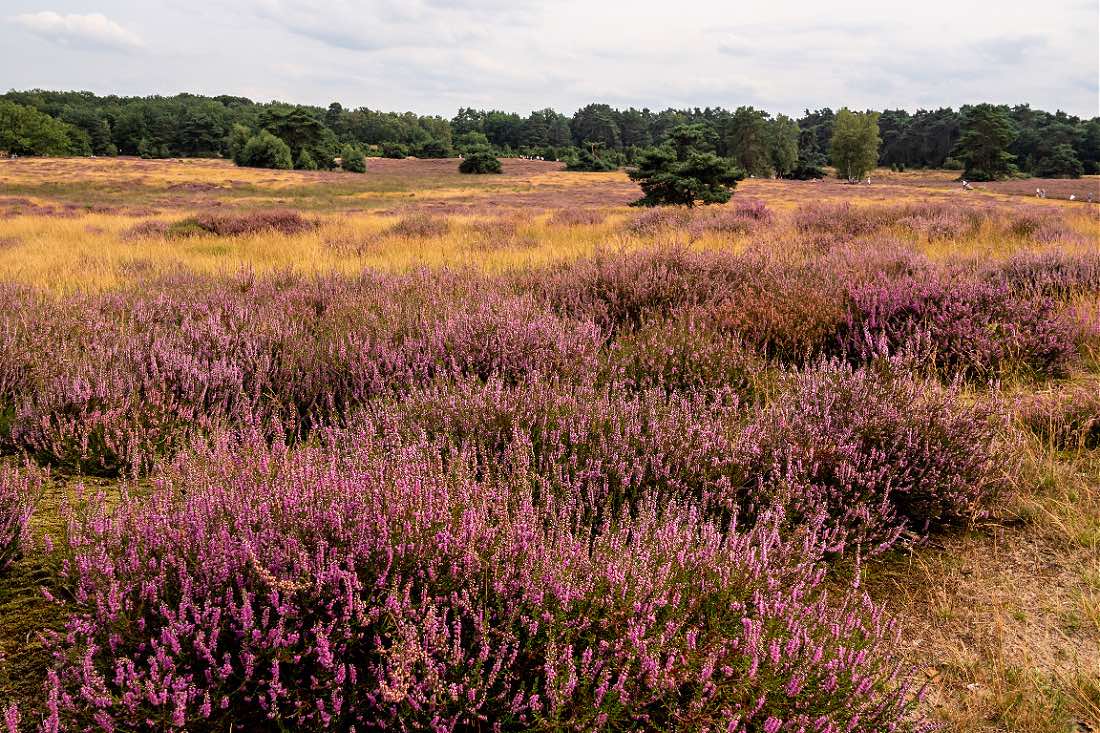 Even if it looks empty: Probably thanks to Corona, many were here at the weekend for hiking or for a walk with children or dogs. The Westruper Heide is a popular recreational area.
Fortunately, the landscape is extensiveso that they all spread out to some extent. Still, if you have the choice, you should rather on weekdays than coming here on the weekend.
However, you are not completely alone there, even during the week and at an early hour. at sunrise were quite a few Photographers On the way.
Various hiking trails in the heathland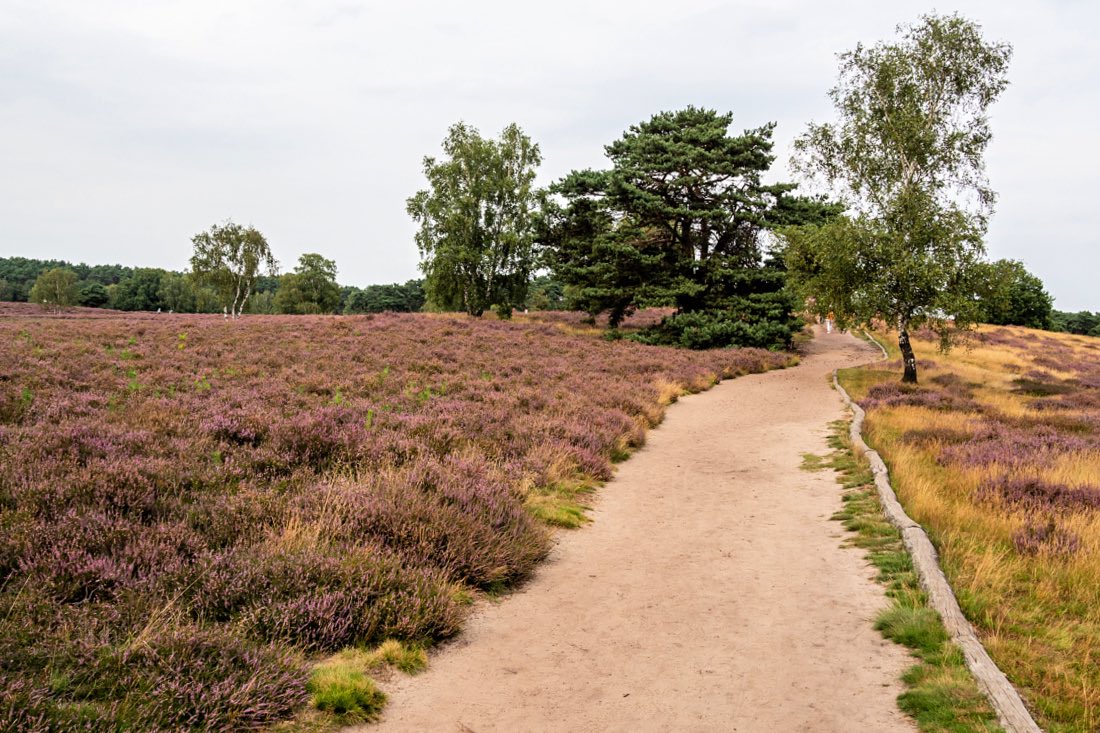 We crossed Flaesheimer Damm on the corner of Westruper Strasse. There is one at this entrance to the heather Information board with the hiking trails.
the four themed trails of 3 to 4 kilometers each have different colors that you can find on the trail markers. There are also some hiking routes in the heath and the surrounding area Komoot Outdoor-App deposited. And be at the time of the heather bloom guides offered.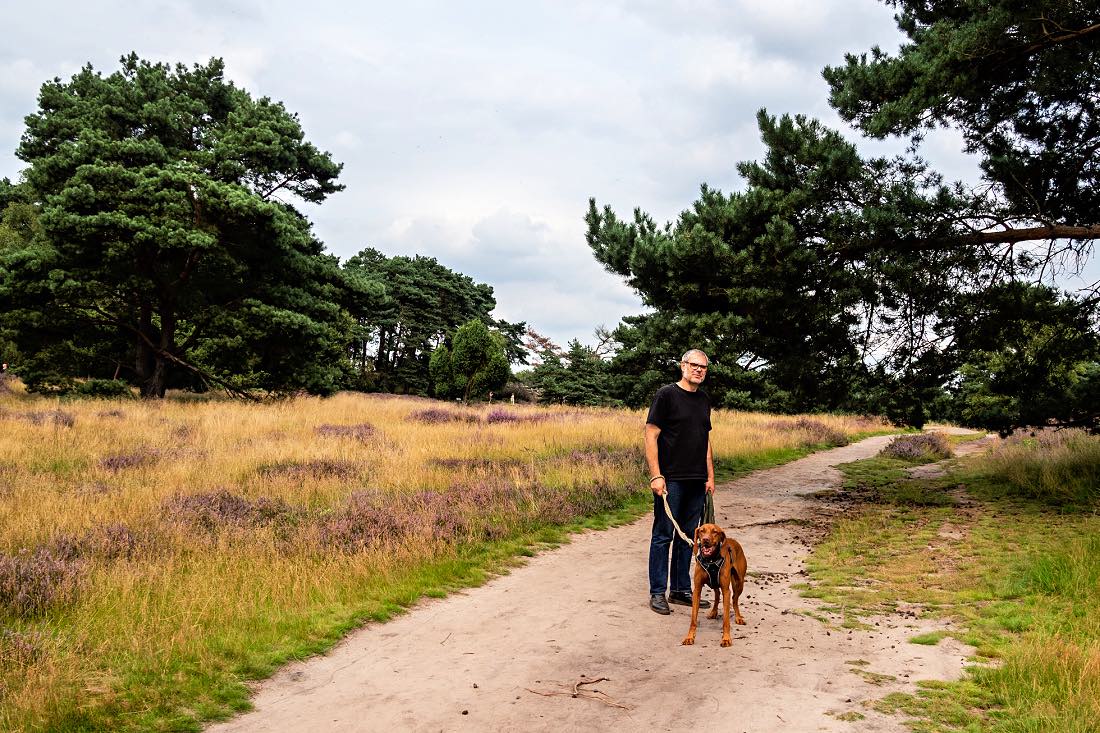 We have been to both times around two hours in the heather, we stopped at many photospots on. There were really great motifs! Incidentally, drones are not allowed to be used.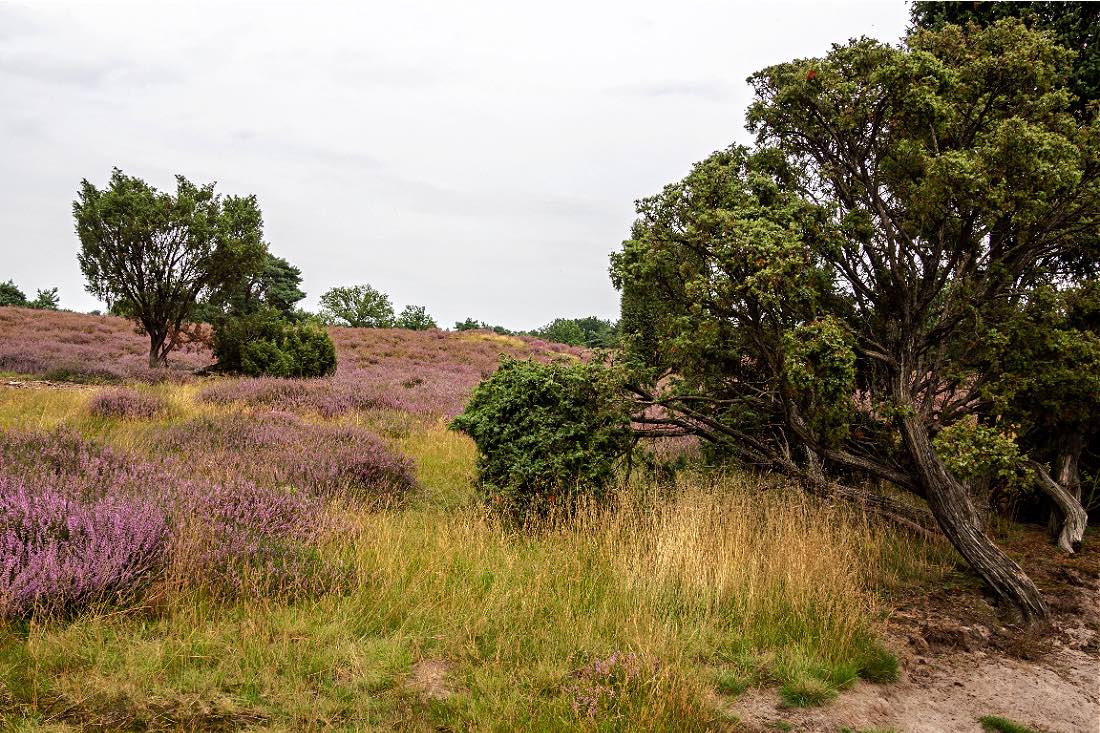 The inland dunes, pines and juniper bushes were very beautiful. At the highest point of the heather we came to the Lookout point with benches. Of the Viewing dune from you have a beautiful panoramic view.
Our path was mostly at ground level, only led uphill once. With my Sneakers I got along well there.
Some pedestrians ran us inside in the afternoon barefoot opposite. I did the same, took off my shoes and socks. It was awesome to walk on the soft sand. I usually only do that on vacation by the sea.
Experience heath with fog at sunrise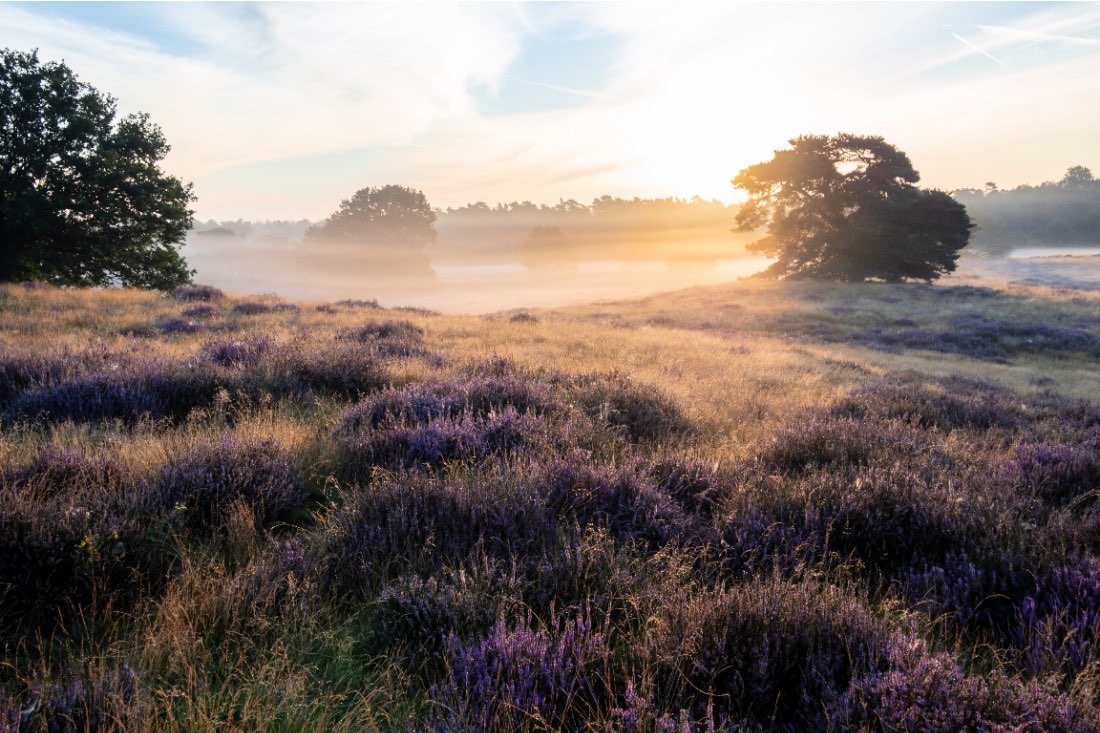 It was so worth it to get up at 4 a.m. on Wednesday to be on time for the sunrise to be with the heather.
There I saw the landscape bathed in golden light. The ground mist hovered like a veil over the heather blossoms, in which dew glittered. Beautiful!
Restaurants am See
At the Haltern reservoir you will find restaurants where you can eat, drink and go to the toilet after a walk or hike.
We drove in the afternoon, for example. B. at Jupp the beer garden experience or Jupp unner de Böcken (Hullerner Str. 107) with his over 150 seats past. And the Hotel Seehof (Hullerner Str. 102) has one Terrace with a view of the lake.
All information at a glance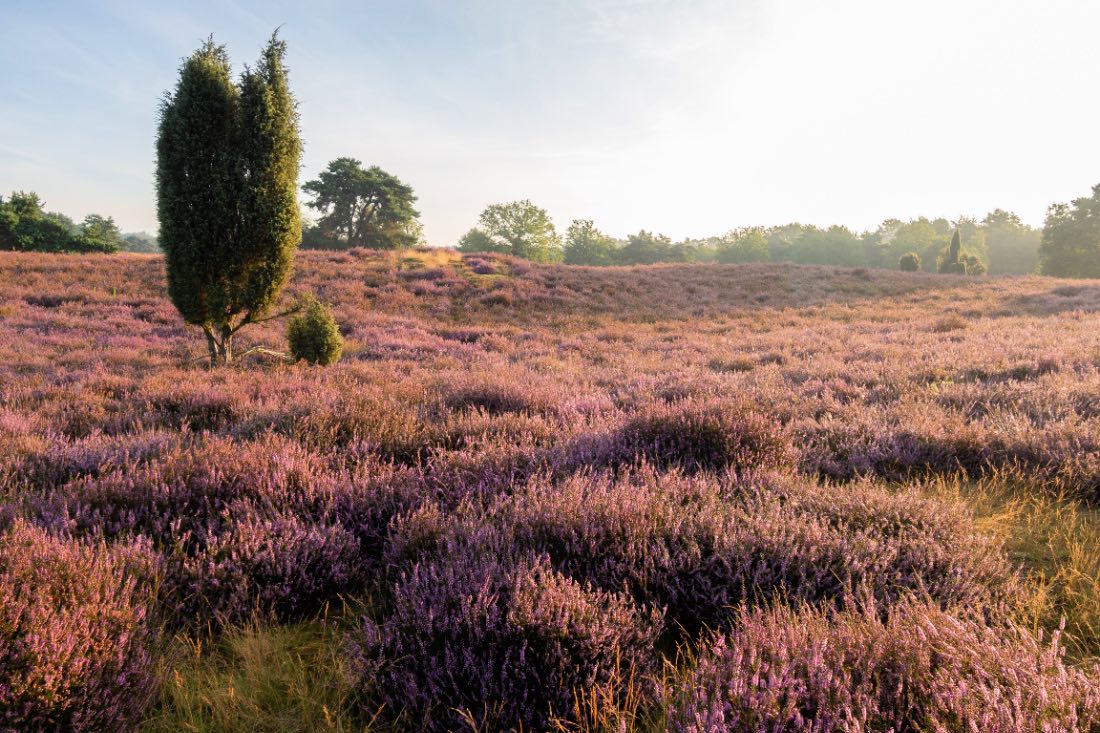 Westruper Heide in Haltern am See, North Rhine-Westphalia
around 90 hectares of heather
Nature reserve
Heather bloom: from late July to early September
200 Heidschnucken sheep and ten goats graze here around half of the year
Dogs are allowed on a leash
Free "Westruper Heide car park" on Flaesheimer Damm, additional parking spaces on the B58
Entrance Flaesheimer Damm / Westruper Straße
There are information boards with the hiking trails
Four themed trails of 3 to 4 kilometers each with different colors on the trail markings
More hiking routes with the Komoot app
Guided tours are offered when the heather is in bloom
Several restaurants at the Haltern reservoir, e.g. B. Jupp the beer garden or Hotel Seehof
Have you ever seen the heather blossom?
Continue reading
Excursion with dog to Römerpark Xanten (NRW)
Sequoia trees on the Sequoia farm in Kaldenkirchen on the Lower Rhine
Excursion destinations on the Lower Rhine: Favorite places of 8 travel bloggers
Largest pumpkin exhibition in North Rhine-Westphalia – Krewelshof Eifel
Eifel with dog: short vacation at the Rursee (with video)
Dog vacation: The 21 most beautiful travel destinations – with insider tips
Newsletter & Social Media
Would you like to be informed about new blog posts? Then subscribe to Travel on Toast via Newsletter. Once a month you will receive inspiration, insider tips and information on competitions. Also like to follow me about Instagram, Facebook, Pinterest, Tik Tok or YouTube. You can find out more about me here.
Westruper Heide mit Hund – Remember tips on Pinterest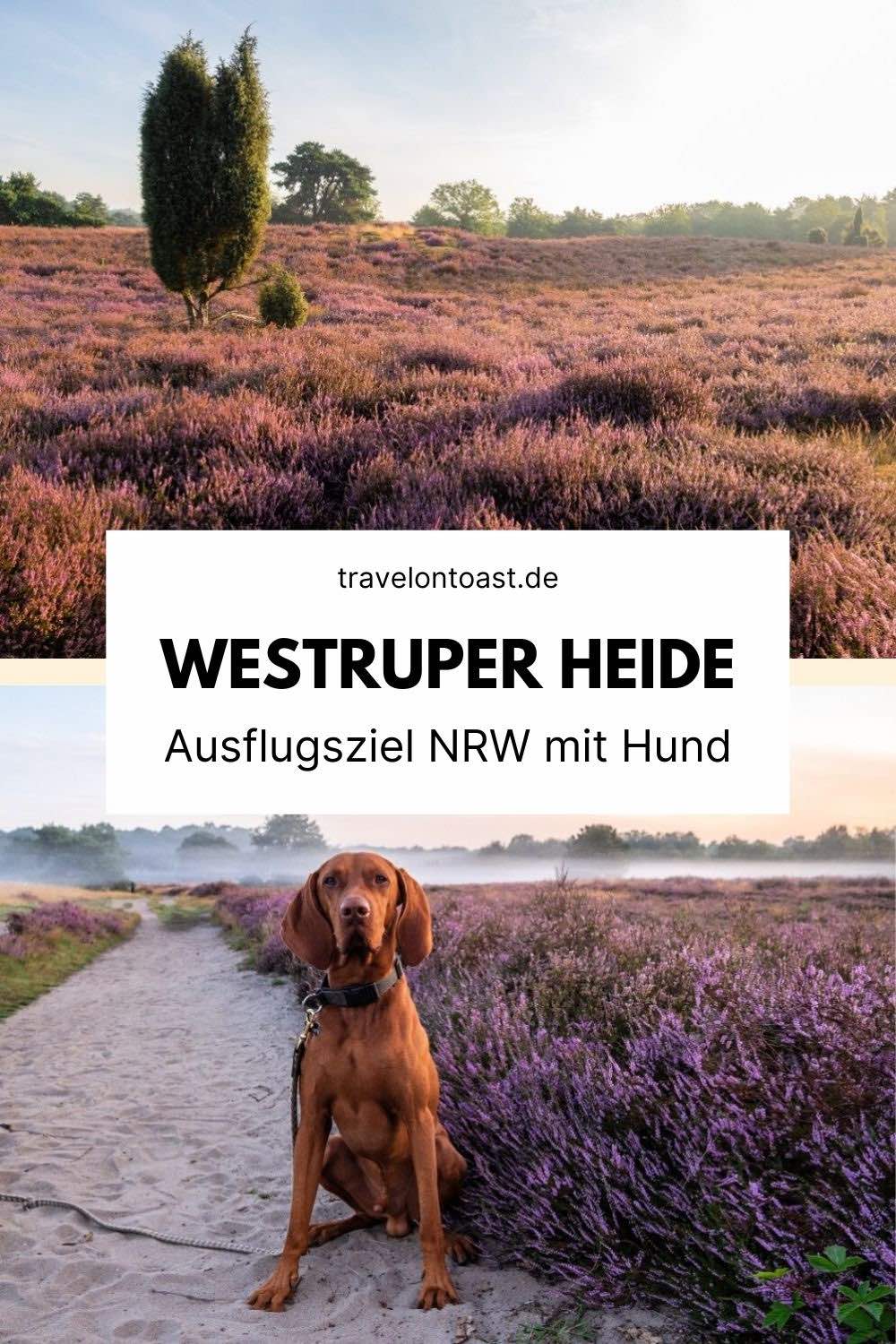 The following two tabs change content below.
This travel blog & food blog is about beach holidays, city trips, road trips, holidays with your dog and vegan food. Feel free to follow me on Facebook, Instagram, Pinterest or YouTube.
We would like to thank the author of this post for this outstanding web content

Westruper Heide, North Rhine-Westphalia: excursion with your dog to the heather blossom – with video