Many people don't know that we already had a sequel to this movie classic. But nevertheless, those who did see it try to forget it; here we tell you why Mean Girls 2 It didn't shine like the first one.
Every person who loves this story looks forward to October 3 to celebrate its characters, its iconic phrases and its brilliant jokes.
And in an age where we have seen the meeting of Friends and a sequel to Sex and the City. Therefore, fans of Mean Girls they don't stop wondering what would become of Cady Heron, Regina George and company today.
In what something like this happens or not, we tell you about the failure that was Mean Girls 2.
Sequel or remake? So was the failure of Mean Girls 2
The first film starring Lindsay Lohan and Rachel McAdams was released in 2004 and since then the teen comedy has become a pop culture icon.
Being a success it was obvious that they wanted to repeat that success and that is why they worked on a sequel simply called Mean Girls 2.
Same story with a twist that doesn't work
There are a lot of sequels that just copy and paste the plot of the first, but with different characters. However, do that with Mean Girls 2 it was not the best idea.
The story follows Jo-Mitchell, who on his first day of school meets "the plastics": Mandi Weatherly, Chastity Meyer and Hope Plotkin.
And yes, he also knows an unpopular girl who is dedicated to art and who has problems with "plastic".
So far everything sounds very familiar; but the big difference is that in this case the protagonist and her friend decide to create their own group: "Las anti-plasticas".
Characters and a script without a joke
It's not enough to put together a group of "popular" girls to make the sequel work. The reality is that none of these new "plastic" reaches Regina, Gretchen or Karen.
And partly it is because Mean Girls 2 did not feature a script developed by the brilliant comedian Tina Fey, who did develop in the first.
No connection to the original
Although the story also takes place at North Shore High School and the principal remains the same; Mean Girls 2 it has no kind of connection with the first.
And the truth is that it's an insult that no one talks about Regina Geroge or Cady Heron considering that it was something great that happened between them.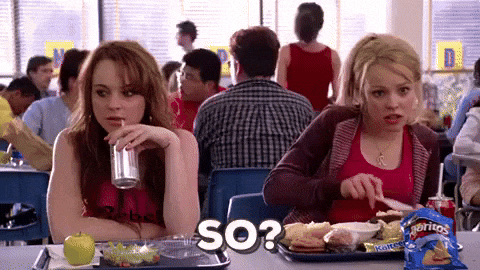 A direct project for television and DVD
The truth is that they did not put so much budget on Mean Girls 2. Well, from the beginning it was defined that it would not be released in theaters, but rather would have a TV premiere (via ABC Family channel) and later a DVD release.
This project was announced since 2008; but nevertheless, launched in 2011 under the direction of Melanie Mayron, who has a lot of experience in series and movies for television.
The cast, with Diego Boneta?
We already talked about how Lindsay Lohan and Rachel McAdams stole the first movie. But sadly Mean Girls 2 It did not have an equally attractive cast.
Jo Mitchell, the protagonist, was played by Meaghan Martin who left the Disney Channel when going out in the movies Camp Rock Y Camp Rock 2.
Her friend Abby Hanover was played by Jennifer Stone, another Disney Channel star that appeared in the series The Wizards of Waverly Place.
The "plastics" were led by Maiara Walsh as Mandi Weatherly. And indeed this was of his first roles, because before she had only gone out as a guest in The Vampire Diaries.
Nicole Gale Anderson gave life to Hope Plotkin in Mean Girls 2. Although she had previously appeared in series such as Zoey 101, Hannah Montana The iCarly it had only been in one episode and as a supporting character.
The trio of "plastic" was completed with Claire Holt as Chastity Meyer. The actress had previously had the leading role in the Australian series H20: Mermaids of the Sea.
Mean Girls 2 He also has a love interest named Tyler Adams, who was played by Diego Boneta when I was just trying to make a career in America.
Where to see it
If you are curious to see Mean Girls 2 we are not going to stop you. Nowadays It is included in the HBO Max catalog.
If you want to rent it, you can do so on Cinépolis Klic, YouTube Movies, Amazon Prime video, Apple TV or Claro Video.
We would like to thank the writer of this write-up for this awesome content

Mean Girls 2: why did the sequel go unnoticed?