One
2
2018
23:27
One of the America's Most Successful Independent Films This Year, both for the reception of the public and the critics who have nominated and recognized it in several of the season's awards. The Big Sick had a budget of only 5 million dollars and accumulates to date 55 thousand.
This is a story that is essentially a romantic comedy based on true events and that it is carried out by one of those who lived it.
The Big Sick (Un amor inseparable) was written by those who starred in this love story, Emily V. Gordon and Kumail Nanjiani, and was shaped by three years between the time Nanjiani met with Judd Apatow and they decided to take it to the movies (from 2012 to 2016 when it finally started filming in New York).
Kumail (plays himself) is a comedian of Pakistani origin who struggles to open a space, meanwhile his Muslim family, following tradition, is in search of a fiancée with whom he can marry. The problem is that Kumail is not interested in Muslim beliefs. In one of his presentations in a bar he meets Emily with whom he has an immediate connection and they begin a spontaneous relationship that is rapidly strengthening until they grow apart when Emily learns of her family's intentions to marry him off. Soon after, she suffers from a strange condition (still disease) that leads her to be induced into a coma. Kumail cannot forget her and upon learning of her condition, he promises that if he comes out of his serious inflammatory process, he will marry her.
The Big Sick is a simple film that tells a true story and the beginning of a totally atypical love relationship, with a tragedy, but despite this, the narration is fresh and never forgets the humorous element even when the medical news is very daunting.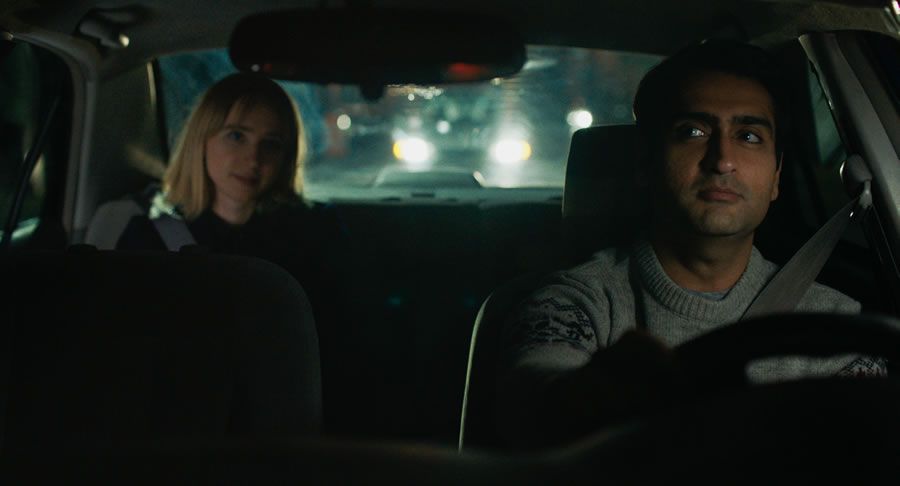 Another of its strengths is the turn of the page to the subject of arranged marriages that have been taken to the cinema from the implicit drama. Productions that from fiction or documentary have shown us how this deeply rooted Muslim custom has produced hundreds of deaths and suicides. Here its protagonist shows us a funnier side, a little less transcendental and from the western position that we have on this matter (the absurdity of forcing a son to marry someone he does not know).
The Big Sick is a romantic comedy that actually works because it can be read in a variety of ways, thus connecting with many types of audiences. It serves to show the panorama of comedians (the struggle to be recognized), the obstacles that always arise with cultural differences, family dilemmas and contrasts and the difficulties to overcome after an illness. It also has a wonderful cast that, in addition to Kumail's naturalness, includes a charming Zoe Kazan, a memorable Holly Hunter and a regal Ray Romano.
Amena, laughable, emotional, laid-back and original, after her successful stint at Sundance, she has received 35 nominations this Awards Season, including recognition of Holly Hunter's career at the Palm Springs Festival.
Michael Showalter was in charge of directing it positively in general terms, with the changes of rhythm that cost him the most, especially in the densest act (that of the disease).
Datasheet
Director: Michael Showalter
Guion: Emily V. Gordon, Kumail Nanjiani
Genre: romantic comedy
Duration: 117 minutes
Reparto: Kumail Nanjiani, Zoe Kazan, Holly Hunter, Ray Romano, Anupam Kher
Cinematography: Brian Burgoyne
Editing: Robert Nassau
Music: Michael Andrews
Country: United States
Year: 2017
Recent releases

Next releases

---
We would love to give thanks to the author of this article for this remarkable web content

Review The Big Sick (An inseparable love), a real love story that began with a tragedy%