With this purchase, the company expects its e-commerce and omnichannel compliance solution to be able to deliver to 100% of the US in two days and 60% in one day.
Ryder System announced the signing of an agreement to acquire Whiplash, a US provider of omnichannel fulfillment and logistics services, for approximately $ 480 million in cash, to accelerate the growth of its business and expand its e-commerce network.
Through a statement, the supply chain, dedicated transportation and fleet management solutions company highlighted that with the purchase of the California-based firm, it expects its omnichannel compliance and e-commerce solution to be able to deliver 100% of United States in two days and 60% in one day.
"The Whiplash acquisition is consistent with our strategy to accelerate growth in our higher performing supply chain business. It also expands our e-commerce and omnichannel compliance network and reflects our continued focus on technology and innovation, "said Robert Sanchez, President and CEO of Ryder.
Follow us on Google News to keep you always informed
And he underscored that with this purchase, plus Ryder's transportation logistics solutions, including its Ryder Last Mile delivery network, positions the company to deliver "incredible value for our customers who are looking for more advanced electronic fulfillment solutions in the changing world. current panorama ».
Whiplash offers scalable e-commerce and omnichannel compliance solutions to a list of more than 250 brands; has 19 dedicated and multi-client warehouses, totaling nearly seven million square feet and providing access to key port operations and entry markets.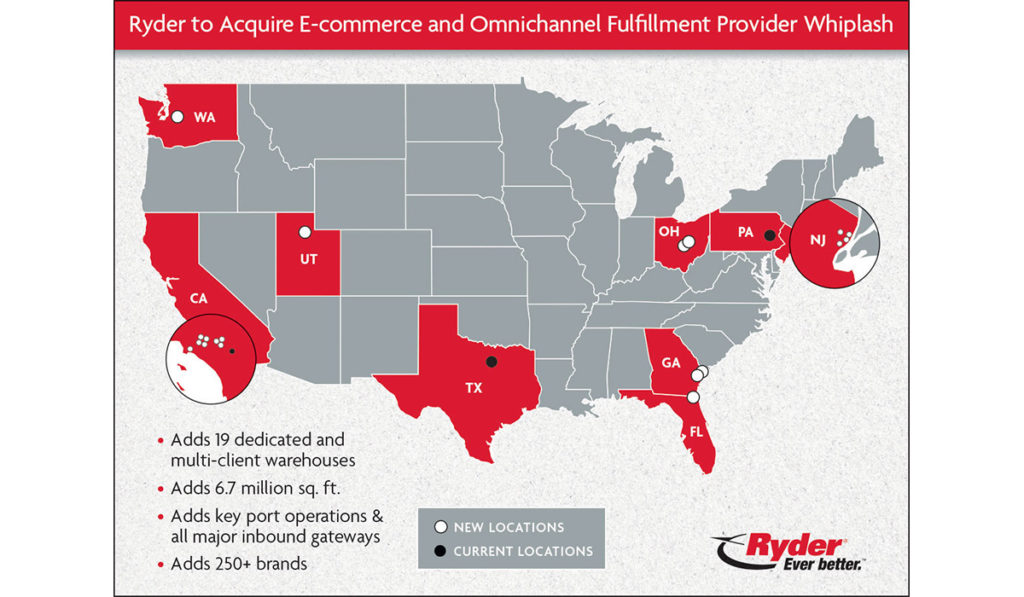 In addition, Ryder saw the transaction as beneficial to shareholders and is expected to add approximately $ 480 million in gross revenue to its supply chain solutions business segment in 2022 and provide incremental growth to its earnings next year.
Ryder and Whiplash expect to complete the transaction in late December 2021 or early January 2022, which is subject to antitrust approvals and customary closing conditions.
It may interest you: Ryder Recognizes US and Canadian Carriers
Ryder expects to integrate Whiplash's robotics and warehouse automation and facilities, operations, technology and automation into its e-commerce fulfillment solution within the Supply Chain Solutions business unit. Additionally, he plans to retain Whiplash's executive team and workforce, to execute growth and solutions for clients in this segment.
"With e-commerce sales continuing to hit record highs and omnichannel retailing is becoming common, we are seeing a significant increase in brands seeking more dynamic fulfillment services," said Steve Sensing, president of supply chain solutions. Ryder's global.
The acquisition will add to Ryder's existing e-commerce fulfillment network with new facilities in Chino, City of Industry, and Long Beach, California; Jacksonville, Florida; Savannah, Georgia; Newark, Secaucus and Clifton, NJ; as well as Columbus, Ohio; Salt Lake City, Utah; and Sumner, Washington.
Additionally, the acquisition strengthens Ryder's presence in key port operations, providing four-corner coverage of all major United States inbound gateways through Seattle / Tacoma, New York / New Jersey, Savannah and Long Beach.
We invite you to listen to the new episode of our Ruta TyT podcast:
We want to give thanks to the author of this short article for this outstanding content

Ryder acquires Whiplash to strengthen e-commerce and omnichannel in the US